Levidi is a beautiful Greek
town in Arcadia, in central
Peloponesse. It is 25 Km
north of Tripolis (capital of Arcadia) and about 850 metres above sea level.
It is built at the east foot of mountain Mainalo.
The nature and climate are magnificent.
The population of Levidi is about 1200. In the past, much people immigrated abroad. Today Levidiotes live in Argentina, Australia, USA, Canada and other countries.
---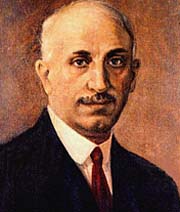 Alexandros Papanastasiou
Former Prime Minister
The photos of Levidi were taken by the webmaster.